LUCIE MAKES PORN

A WOMAN ON A WONDERFUL MISSION TO MAKE PORN FUN FOR EVERYONE
A few years ago Lucie Blush started out as a sex blogger, sharing her thoughts on sexuality and pornography on her blog We Love Good Sex. To Blush the mainstream porn that is out there neither reflects the reality of sex nor the real pleasure it can give us. She came to the conclusion that in order to make a change, she had to make porn movies herself. After winning the award for Honourable Site for her blog at the Feminist Porn Awards, Blush shot her first production: Alice Inside. In this explicit film you get to have a peek into the mind of a woman during steamy sex with a hot stranger. Blush received very positive feedback and to our great pleasure she decided to continue working as a pornographer, writing scripts and being both in front and behind the camera.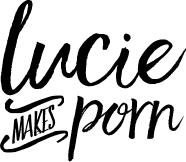 LUCIE MAKES PORN
IS ABOUT RESPECTING WOMEN, THEIR BODIES, OFFERING A GOOD AND PLEASURABLE WORKING ENVIRONMENT FOR EVERYONE INVOLVED.
B
eing a porn-positive, feminist woman
Blush
considers our desire to watch erotica, mainstream included, normal and healthy. "It's just sex!" and right she is.
Blush
recognises women have the same sexual needs as men do: they want to watch porn, get aroused by it and explore their lust. To satisfy their desires, though, variety and a fresh perspective on pornography is necessary. Feminist porn as
Blush
defines it is not about one type of pornography that only appeals to a female audience and excluding men by default. It is about respecting women, their bodies, offering a good and pleasurable working environment for everyone involved, appreciating mutual objectification (we prefer 'subject'ification, though), healthy, consensual submission and depicting deep, intense fantasies.
On Blush's online adult cinema platform Lucie Makes Porn you will not only find her own work, but also videos by other independent erotic film makers such as Nico Bertrand , Pillow Book, Poppy Sanchez, Meow Meow  and Noel Alejandro.
I believe that mainstream porn has become boring and that the pornorama desperately needs fresh, beautiful, and natural sex the audience may relate to. Porn is not about a mechanical act, it's about triggering inner fantasies and providing pleasure.
Lucie Blush
Together, they present an exciting mixture of hot, sex-positive short films with various lustful and kinky themes. If you can appreciate the beauty of male-male intimacy, Doing Elliot by Noel Alejandro is definitely a must-see. Captive is quite a naughty, submissive kidnapping-fantasy by Blush. In Spirit Ink you see how the pain of the needle unleashes his desire to orally pleasure the tattooist…
---
IF LUCIE MAKES PORN MAKES YOUR JUICES FLOW,

you can have a one month membership for only €19,95 .
---
SORRY, ONLY NAUGHTY PEEPS GET SPICY OFFERS! SO CHOP, CHOP, GET ON OUR NAUGHTY LIST – IT'S FREE!
---
By buying a subscription through NAUGHTY&SPICE you make it possible for us to continue researching and offering you unbiased information about the high-quality, sex-positive erotica you are looking for.
---
GALLERY